[ENGLISH VERSION BELOW]
Ei, você tem praticado esportes?
Se exercitar é muito importante para se manter saudável em diversos aspectos e praticar esportes ao ar livre é uma das melhores formas de fazê-lo.
Nossa cidade maravilhosa tem uma beleza natural de tirar o fôlego, e, apesar de nestes últimos tempos estar sendo difícil poder explorar tudo de perto, com as precauções necessárias já se pode ir a alguns lugares, então vamos conhecer os melhores lugares para praticar esportes ao ar livre no Rio de Janeiro.
Para quem curte um treino funcional, vôlei de praia, futevôlei, frescobol, caminhada ou corrida, entre outros, nossas praias são os melhores lugares. Praia Vermelha, Flamengo, Leme, Copacabana, Arpoador, Ipanema, Leblon, o que não falta são opções e depois do treino ainda dá para aproveitar para dar um mergulho e descansar.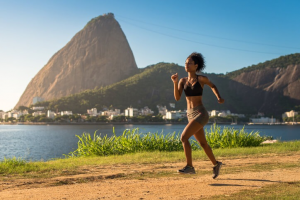 Pensando nos esportes aquáticos, além da natação e surfe, existem opções como: Kitesurfe na praia do Pepê na Barra da Tijuca; Canoa Havaiana (também conhecida como Va'a, OC6, V6, outrigger canoe, 6-man e canoa polinésia) nas praias da Urca, Flamengo e da Barra da Tijuca; Remo na Urca; Wakeboard na Lagoa Rodrigo de Freitas e na Ilha do Ipê na Barra da Tijuca; e Stand Up Paddle em Copacabana. Lembrando que em todos os lugares citados existem clubes ou escolas para aprender e/ou alugar equipamentos.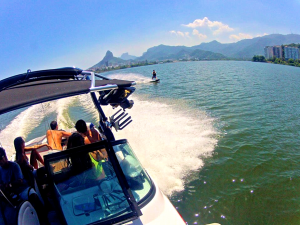 Para os fãs de escalada, é possível praticar o estilo tradicional no Morro do Pão de Açúcar, em que depois de subir os escaladores voltam descendo de bondinho, ou dentro da Floresta da Tijuca, onde há formações rochosas do Pico da Tijuca, Bico do papagaio e Agulhinha da Gávea. E, quem já corre e quer novos desafios, uma boa é a corrida de montanha na Tijuca na trilha do Pico da Tijuca, com um trajeto de aproximadamente 4,7 km, considerando ida e volta.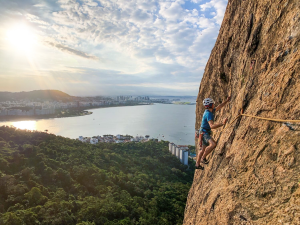 Para quem gosta de adrenalina e quer uma visão espetacular da cidade de cima, o vôo de Asa Delta é praticado geralmente na Pedra de Gávea pousando na Praia de São Conrado.
E quem não curte andar de bike né? Para isso, boas opções são ir desde o Parque Lage até as praias da Zona Sul passando pela orla, pedalar pela Praça Mauá no Centro da cidade com vista para a Baía de Guanabara podendo ainda visitar os museus que tem por lá ou fazer um passeio de bicicleta à beira da Lagoa Rodrigo de Freitas, além do Parque dos Patins próximo das margens da Lagoa, com uma área grande para andar de patins, patinete, skate e bicicleta.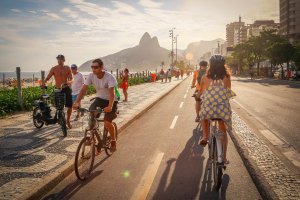 Além disso, outros lugares conhecidos e ótimos para atividades físicas diversas são:
Parque Lage, próximo ao Morro do Corcovado.

Aterro do Flamengo, uma espaço amplo com inúmeras alternativas para várias idades, equipamentos acessíveis de musculação e ciclovias.

Vista Chinesa, com duas cachoeiras no trajeto e uma vista privilegiada da cidade ao fim da subida.

Quinta da Boa Vista

Jardim Botânico

Parque da Catacumba

Parque do Cantagalo

Entre outros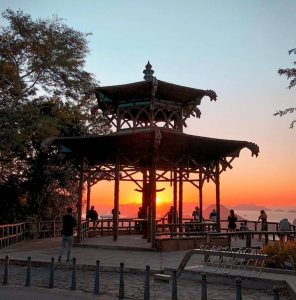 Então, agora que você já conhece os melhores lugares para praticar esportes por aqui, nada melhor que aproveitar essas dicas para se exercitar enquanto aprecia as vistas maravilhosas que o Rio de Janeiro tem a oferecer, né?
Escrito por Wenya Li.
__________________________________________________________________
[ENGLISH VERSION]
Hey, have you been playing sports?
Exercising is very important to stay healthy in many ways and playing outdoor sports is one of the best ways to do it.
Our wonderful city has a breathtaking natural beauty, and although recently it has been difficult to explore everything up close, with the necessary precautions you can already go to some places, so let's get to know the best places to practice outdoor sports in Rio de Janeiro.
For those who enjoy functional training, beach volleyball, footvolley, paddleball, hiking or running, among others, our beaches are the best places. Praia Vermelha, Flamengo, Leme, Copacabana, Arpoador, Ipanema, Leblon, there are plenty of options and after training you can take a dip and rest by the beach.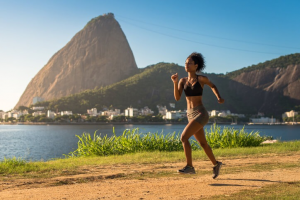 Thinking about water sports, in addition to swimming and surfing, there are options such as: Kitesurfing at Pepê beach in Barra da Tijuca; Havaiana Canoe (also known as Va'a, OC6, V6, outrigger canoe, 6-man and Polynesian canoe) at Urca, Flamengo and Barra da Tijuca beaches; Rowing in Urca; Wakeboarding at Lagoa Rodrigo de Freitas and Ilha do Ipê in Barra da Tijuca; and Stand Up Paddle in Copacabana. Take into account that in all of the places mentioned there are clubs or schools to learn these sports and/or rent equipment for it.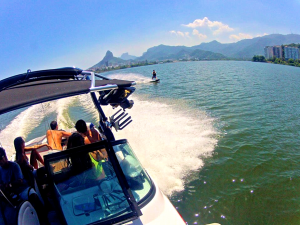 For rock climbing fans, you can practice the traditional style on the Sugarloaf Mountain, where after climbing the climbers return down by cable car, or inside the Tijuca Forest, where there are rock formations of Pico da Tijuca, Parrot's beak and Agulhinha da Gávea. And for those who already run and want new challenges, a good one is to practice mountain race in Tijuca on the Pico da Tijuca trail, with a path of approximately 4.7 km, considering a round trip.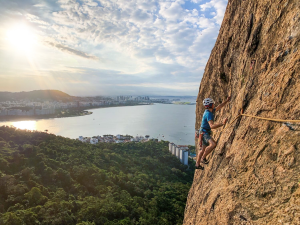 For those who like adrenaline and want a spectacular view of the city from above, the Hang Gliding flight is usually practiced at Pedra de Gávea, landing on São Conrado Beach.
And who doesn't enjoy riding a bike, right? For this, good options are to go from Parque Lage to the beaches of the Zona Sul (mentioned earlier), passing by the seafront, or cycling through Praça Mauá in the city center overlooking the Guanabara Bay, and you can also visit the museums there, or take a bike ride on the edge of Lagoa Rodrigo de Freitas, besides the Parque dos Patins near the shores of the Lagoa, with a large area for roller skating, scooters, skateboards and bicycles.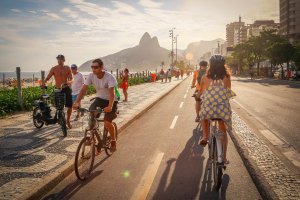 In addition, other known and great places for various physical activities are:
Parque Lage, near the Morro do Corcovado.

Aterro do Flamengo, a wide space with several alternatives for different ages, accessible weight training equipment and bike paths.
Vista Chinesa, with two waterfalls on the way and a privileged view of the city at the end of the climb.
Quinta da Boa Vista
Botanical Garden
Catacomb Park
Cantagalo Park
etc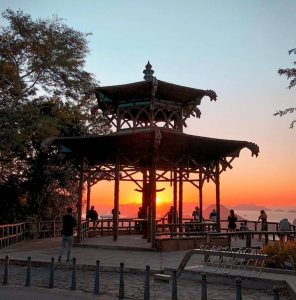 So, now that you know the best places to play sports around here, there's nothing better than taking advantage of these tips to exercise while enjoying the wonderful views that Rio de Janeiro has to offer, right?
Written by Wenya Li.
Tags:
beach
,
bike
,
hike
,
interpoli
,
interpoliufrj
,
outdoorsports
,
praia
,
riodejaneiro
,
sports
,
tips
,
trail
,
ufrj
You may also like this